Since my last post for which I shared my proposal for my major project, I've started to figure out the direction I want to go.
First, I searched online for some information related to digital citizenship for kids and came across a website called Be Internet Awesome (by Google), which Leigh tweeted about as well. Kids can explore several different islands with titles such as:
Mindful Mountain – Be Internet Smart (Share with Care)
Reality River – Be Internet Alert (Don't Fall for Fake)
Tower of Treasure – Be Internet Strong (Secure Your Secrets)
Kind Kingdom – Be Internet Kind (It's Cool to Be Kind)
*No Island* – Be Internet Brave (When in Doubt, Talk it Out)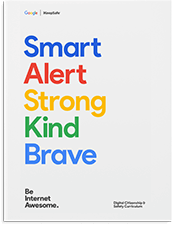 I loved the idea of this but wanted to now the results of the questions being answered. So, I went through each activity, (yes, it was tedious), but I copied down all of the questions and answers for each of the activities. Unfortunately, this takes the fun out of it for the kids since the game part of it is taken away, but they're none the wiser, right!?
Next, I created a Google Form for the Mindful Mountain activity to create a survey to send out. I decided to select the ages of 7 to 12 year olds as both my daughters fit in this age range. I also choose 7 years of age (Grade 2) as my low end because many kids use their parents devices to send snaps to friends, or look at Instagram (mine do for sure). I choose 12 years old (grade 7) as my high end because I know most of my daughter's friends are pretty savvy with technology but may not necessarily be digitally aware of their interactions online. Lastly, the questions used on the website seemed to fit this age range as well.
My initial intentions were to only involve kids in the survey to see what their knowledge was on each topic, but as I drafted up the survey, I was interested to know how much parents knew about their kid's understanding. Therefore, I created three questions for parents to ask their children related to the topic of information sharing, and posed them in a way for them to express how they felt about their kid's answers.
Next, I sent it to a friend to look over for me to ensure I had expressed my intentions properly and described things succinctly for a clear understanding because I tend to drone on. With a few edits, and a thumbs up for approval, I sent the email with a brief description of my project, an explanation of the survey, the list of three parent questions to ask, and a link to both the kid and parent survey. I sent it to families that I know well through either school or sports interactions over the years and set a date of Feb. 10 for completion.
The next step is to gather the data from the surveys to understand the kids' level of knowledge on the topic as well as how aware and comfortable parents are of their kid's awareness. I'm excited to see the results!
In the meantime, I had my husband help my youngest daughter go on to the Be Internet Awesome website to complete one of the activities. This was my gauge to see if this is something that would interest her, and it did! I didn't stick around to hear their conversation, but I did follow up with her myself to see what she learned from it. To my disappointment, she had difficulties, or lack of desire, in sharing her knowledge. She should know me well enough to know that I'd press the issue, so I went through each question and discussed her answers in detail. We had a really good discussion and she was able to share with me that she would share information with her parents the most and make sure to get permission before sharing information with others. Parenting win!
Stay tuned for the results of the surveys!